Google +1: a perfect opportunity - for Google.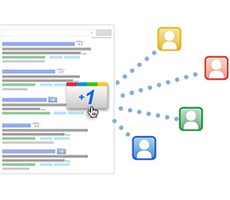 We first heard the name "Google +1" back in December when TechCrunch reported that the search giant was working on a new social product - yesterday saw the actual (admittedly low-key) launch.
You'll have no doubt already seen exactly what +1 is all about so I won't spend too much time on that - if you haven't seen the full details you can read the announcement here.
+1 is a massive project and Google are justifiably starting slow so the initial impact is going to be minimal.
Just like Likes?
The functionality relies on you having a Google Profile and a social circle via services such as Buzz, Gmail and Reader. As has already been said, hitting +1 on a search result or an advertisement is akin to hitting the Facebook Like button or an existing social share.
As these other shares from our social circle already show in search results it may initially seem that the value to the end-user is currently limited but it enables us to directly "like" an item that may not have implemented any sharing functionality from social networks (tweet button etc.) with just one click. It also enables those without a Facebook or Twitter account to share their likes but those interested in social search and sharing are more than likely to have one or both of those.
From small acorns
Despite a gradual introduction +1 has the potential to greatly impact our behaviour and search results if - as has been suggested - it is eventually opened up to those without Google Profiles and the 'likes' are factored in to page rank.
Coming soon we also have the +1 buttons which site owners will be able to deploy on their pages just as they already do with Tweet and Like buttons. Being able to influence the search results for a site without the need to visit Google itself will be a big win for site owners whose traffic may be coming from RSS feeds, direct links or other social shares.
A noble act?
Google's goal may be to get us "the most relevant results as quickly as possible" but it is certainly not simply born out of good intentions. While we may all benefit the real value behind +1 is for Google in the form of data collection.
Just as I proposed with the goo.gl URL shortener this is a perfect opportunity to capture 'Like' data for themselves rather than have to rely on 3rd party services for the majority of their social data.
Simple
The simplicity of Facebook likes and the Tweet button have been their success - one click and you're done. Google can plug-in to the current social consciousness and piggy-back on the 'like culture' to good effect. Where other attempts at social may not have lived up to expectations +1 can triumph as it taps directly in to Google's two main successes: search and advertising.
Forget Orkut, forget Buzz, +1 could be the first offering to really cement social in the mind of Google users; instantly actioned with instant results, simplicity is key to being finally taken seriously in an already competitive space.