Twitter finally going beyond the hashtag.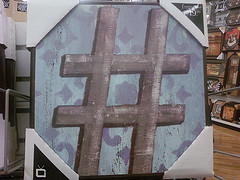 In March of last year I suggested that Twitter could make use of implicit social graphs to recognise those times when individuals, who may otherwise be completely unconnected, get together for something like a sports event; I proposed "channels" for a specific event.
Almost a year later Twitter engineer William Couch (@couch) presented a system called Osprey at SXSW 2012 which, somewhat familiarly, aimed to stop tweets for specific events clogging up the feeds of our followers by creating a separate backchannel. The execution might have been different but the goal was the similar.
Now, Twitter has finally gone beyond the hashtag by trialling "event pages" - the first in conjunction with Nascar.
Event pages offer a curated stream specific to a particular topic or event using "a combination of algorithms and curation" to provide fans with news and talk around the event in its own timeline. While the implementation may be a bit different this is exactly the kind of thing, even down to branding, I had in mind when I considered channels.
The new event pages will serve multiple purposes:
utilise the interest graph
enhance information discovery and thus the fans' experience
encourage more people to tweet (or, perhaps, even sign up for the service)
Get involved?
As Twitter is already used to track specific events and topics in an informal manner Event Pages will be a great way to enhance the experience and promote the network at the same time but while there is a "Tweet about Nascar" call to action on the desktop page there is no way to get directly via mobile which is more likely to be the "second screen" in these circumstances.
As the stream is curated to bring us "the most interesting tweets", it would appear that Twitter does not want it clogged up with normal user discussion which could drown out the curated signal; a good idea on the one hand but might serve to alienate users as the joy of Twitter is getting involved in as simple a way imaginable and, especially for sports events, interacting with other fans or participants.
Perhaps a link to "see the discussion" which would give the normal stream for the hashtag itself.
Good business
Twitter describes event pages as an experiment but, if the experiment is a success, they will no doubt command a healthy fee for brands and events to set up. In addition to this they are an obvious vehicle for event specific offers and finely targeted advertisments which, due to the focused nature of the stream and its audience, are more likely to be acted upon.
Event pages fit neatly in to the new philosophy of making information more discoverable for users and can be used to draw people in who have yet failed to realise what Twitter can provide. I would expect they are here to stay and for the functionality to iterate quickly as lessons are learnt from each event.
Lead image by Jeff