All your names are belong to Plus.
Google+ heralded a new era for the search giant with a last-ditch attempt to succeed in the social space but are things being pushed too far and too quickly?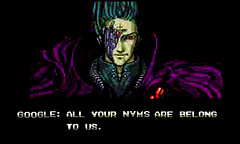 The unofficial Google Operating System blog has pointed out that all new Google accounts created - regardless of the reason - will now also automatically require GMail and be Google+ accounts.
Larry Page announced in the Google quarterly report that Plus has now passed the 90 million user mark - no small achievement in itself - and Google are obviously keen for the service to expand as much and as quickly as possible.
Doing evil?
It is being suggested that Google will come under fire with regards to this especially after the complaints around Search Plus seeming to heavily favour Google+ in SERPs (search engine results pages).
The GOS blog post does not indicate when this change occurred - it would actually make sense to have been introduced at the same times as Search Plus but maybe gone unreported. Irrespective of this, perhaps the timing could have been handled a little more delicately considering the outcry over Search Plus, the move was always inevitable.
Greg Finn at Marketing Land says that this is surprising considering that Google+ is still essentially a beta but it has come an exceedingly long way since being opened up to the public being a fully fleshed out product which is more than ready for prime time.
Google+ is Google
It was originally explained that Plus would become part of the entire Google ecosystem acting as a social layer as well as a social network meaning that, regardless of which Google service you use, you are hooked into the network's social features.
What surprises me, however, is that people are acting as though they could never see this coming. I wrote back in October:
"Once the social layer has been integrated into other Google services we have a huge potential catchment – anyone who uses a Google Service and has a Google account is a potential Google+ user."
If all Google services are linked via Plus then it follows that all Google users would, therefore, need a Plus account to enable the personalisation (via circles) and other social features. Like it or not it is a natural progression; it's just a question of whether you visit the actual network directly or share via another service.
A push too far?
Is it unreasonable for Google to force its social network upon users like this? While the vision is that Plus will be a central component of the Google experience it is presumptuous to assume that all users need or want the social connectivity that Plus affords. Just as we can turn off personalised search then should this extent to the whole social element?
Now that Plus and its hook in to search are to be considered as part of the FTCs (Federal Trade Commission) anti-trust probe into Google it would not be unexpected that the company be forced to offer a "Google Lite" option providing the ability to opt out of all personalisation: a disconnection of the Google+ element.
This would not necessarily be a complete loss for Google - social functionality would instead become opt-in - as search results, recommendations etc. could still be customised by locale and regional trends even though there would be no direct social influence.
I stated that some "will no doubt cry foul if all Google accounts are automatically enabled for Plus" so there must be choice but whether that choice is a complete opt out or, as I described previously, a need to explicitly enable the Plus portion of the account is up for debate.
Brave new world
It is a bold step to bet the future of the whole company on its ability to compete, via Google+, in social and this is reflected in the oft quoted decision to have bonuses for all staff linked to the success of that future. Google has the talent to achieve its goal but must not become over zealous. The social landscape is full of promise and reward, whilst no fool, the company must not rush in unguarded.
After all, there is a reason angels fear to tread here.
Image by Miso Susanowa